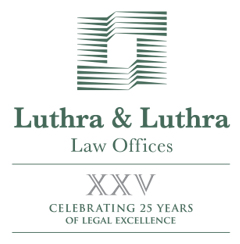 Luthra & Luthra Law Offices (L&L) is a full service top-tier law firm, with a team of over 350 counsel including 60 partners; with offices at New Delhi, Mumbai, Bengaluru & Hyderabad.

In keeping with the Firm's legacy of offering exceptional legal solutions & client advice; teams at the Firm ensure that clients receive practical, innovative & cost-effective advice in a responsive manner, while upholding the highest ethical standards. Enormous amounts of knowledge, experience & commitment, successfully help complete complex and high value deals & litigations, with practical & creative legal solutions.

Consistently ranked as leaders in the legal market, the Firm adopts a forward-looking approach towards the practice of law, combining both conventional practice areas & emerging industry sectors, setting benchmarks and the highest standards within the legal fraternity.

Having a long history of working with multinational clients; the Firm thoroughly understands the sensitivities and expectations of a Global GC. With the depth of experience and years of working closely with the regulators, L&L steers its clients clear of any adverse regulatory implications, which they may face owing to those grey areas of law.

Offering kosher solutions to the complex legal issues, the Firm advises on transactions and matters involving Banking & Finance; Capital Markets; Competition & Anti-trust; Corporate Commercial and Mergers & Acquisitions; Dispute Resolution (Litigation & Arbitration); Anti-Corruption & Compliance; International Trade (WTO) Laws and Policy & Advisory; Project, Infrastructure & Energy; Tax (Direct & Indirect); Real Estate & Construction; Aerospace & Defence (Procurement & Production); Insurance & Re-Insurance; Intellectual Property - Patent & Trademark; Oil & Gas; Health & Pharmaceuticals; Private Equity &Venture Capital Investments.