Upcoming Seminar on "Business Restructuring-Evolving Legal Issues and Imperatives"
By
INSOL Inida

Posted On :

April 09, 2018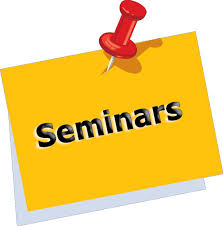 INSOL India along with the PHD Chamber of Commerce & Industry, New Delhi, is holding a Seminar on "Business Restructuring - Evolving Legal Issues and Imperatives" on Saturday, 21
st
April 2018, from 10:30 AM - 4:00 PM at PHD House, New Delhi.
Dr Lalit Bhasin, President Bar Association of India and President Society of Indian Law Firms, Shri Ravi Singhania, Singhania & Partners LLP, Shri Aseem Chawla, ASC Legal Solicitors and Advocates, Chairman and Co-Chairmen of the Law and Justice Committee respectively and Shri Prashant Kumar, Advocate, President-elect of Bar Association of India, are addressing the Seminar. Besides them, eminent speakers would comprise of Lawyers and other prominent persons in business, profession and bureaucrats.
The seminar will focus on contemprory issues of relevance keeping in view the Insolvency and Bankruptcy Code and the developments taking place after its enactment.
Registration are open to INSOL India members and the deadline for the same is 15
th
April 2018.
For more details visist :
http://insolindia.com/event/seminar-on-business-restructuring-evolving-legal-issues-and-imperatives
For more details please visit http://www.insolindia.com/uploads_insol/event/files/seminar-on-business-restructuring-evolving-legal-issues-and-imperatives-1020.pdf