INSOL India to organise Insolvency Summit in Mumbai on 22-23 September 2017
Posted On :
June 04, 2017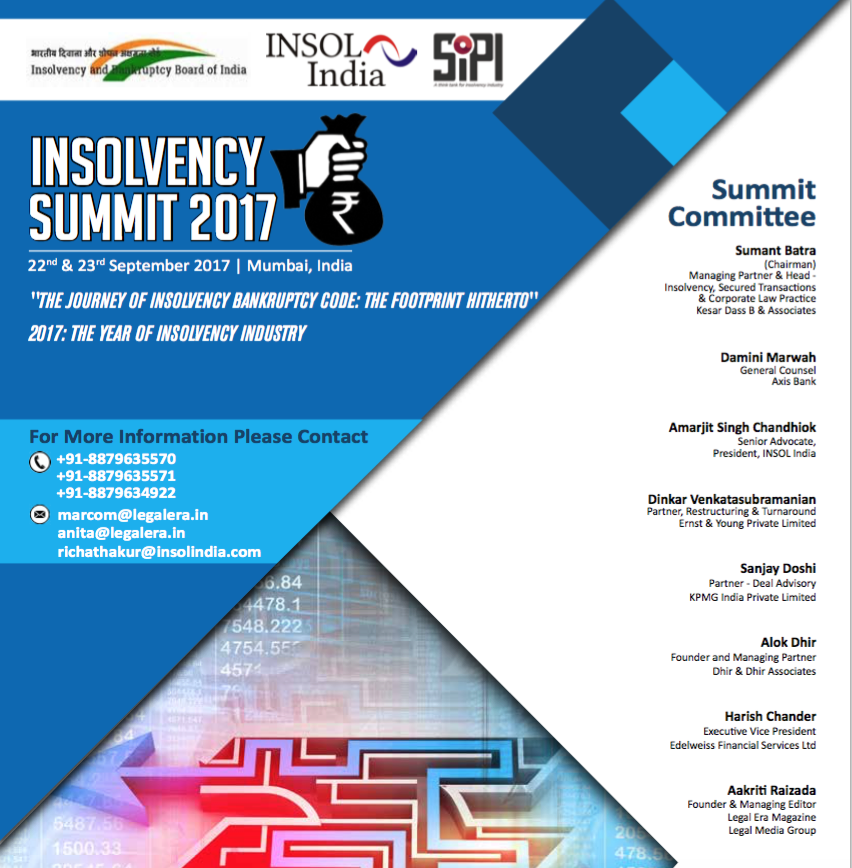 In September 2017, we would have completed 270 days from 1st December 2016 when the Insolvency and Bankruptcy Code, 2016 was made effective. In terms of importance, perceived as the second most important piece of legislation, next only to the goods and services tax (GST), expectations from IBC are high. The Government of India has demonstrated unprecedented resolve to effectively implement the law by building the new institutional architecture in record time and sensitizing the stakeholders.
Even though the proper impact of the new insolvency regime is not expected to be visible in short term and the hangover of celebration of the enactment of IBC still hangs in the air, both the advocates of the law and its cynics are watching the developments in the first 270 days of the IBC closely. This is the magic period, that is, the maximum time for corporate insolvency resolution process provided under IBC. There have been a large number of filings in NCLT, significant activity in the insolvency industry, many key decisions by NCLT and NCLAT, and learning in the first two quarters and the ball is still on the roll, gathering momentum. Many corporate debtors in respect of which insolvency process commenced in December last year would have completed 270 days in September. What would be there fate? While it still might be early days yet to pronounce judgment, the first stock take will surely be due in September on the footprints created in first three quarters of the IBC year.

Led by INSOL India and SIPI, supported by the Insolvency and Bankruptcy Board of India, and organised by Legal Era, the Insolvency Summit will bring the key stakeholders together for two days to share their experiences and views on the first 270 days of the journey of IBC. Based on discussions and deliberations the Summit Technical Committee will prepare a synthesis note to be shared with the policy makers and other stakeholders.